My dad would have been 100 this year.
He was born in Westcliff-on-Sea, Essex, on the 1st July 1920; the youngest child of parents who had emigrated from Poland in 1913.
Ben was born left-handed: the first facet of a sometimes-maverick character!
At school he was forced to write with his right-hand but was permitted to paint and draw with his left. He developed skills that won him a scholarship to The Willesden College of Art in 1934.
I believe that he'd worked in an art studio of a publishing house after art college, before moving into factory work; a reserved occupation which delayed his conscription into the army by a year or two.
But by 1943 Ben got a brown envelope in the post containing the standard letter which comedian Spike Milligan dryly described as the cunningly worded invitation to participate in world war two. Conscripted into an Irish regiment, the Royal Inniskilling Fusiliers, he spent his war in Italy, then being stationed in Austria for over a year after the war.
At the end of the war Ben did not collect his service medals; he felt coming out of the war intact was a medal enough. After National Service he enrolled at the Central School of Art, and then worked as a commercial artist in various studios, practicing skills in typography and illustration.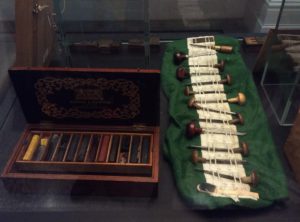 Lino cutting tools
The fifties saw Ben develop a love for two things that would last the rest of his life: ~ printmaking, and Bonna, who became his wife.
Acquiring a letterpress in the 1950s he mastered the skills of typesetting.
So, after his paid work as a typographic designer, his skills and creativity as a printmaker flowed through his free time, with broadsheets and hand-printed books produced by the Shoestring press of Ben Sands.
Being meticulous in pursuit of perfecting his artworks made it, I believe, a therapeutic occupation, aiding recovery from the traumas of the war.
Bonna and Ben moved from London to the sleepy seaside town of Whitstable in 1960. A house on Island Wall was less than a couple of grand back then. They had two sons, myself and my younger brother, David, to complete the household. We remember mum and dad taking turns to bake bread for the week – heavy wholemeal loaves the like of which you could not buy – collecting driftwood to burn, crackling and spitting, in the open fireplace, and dad brewing wine from whatever berry was in season.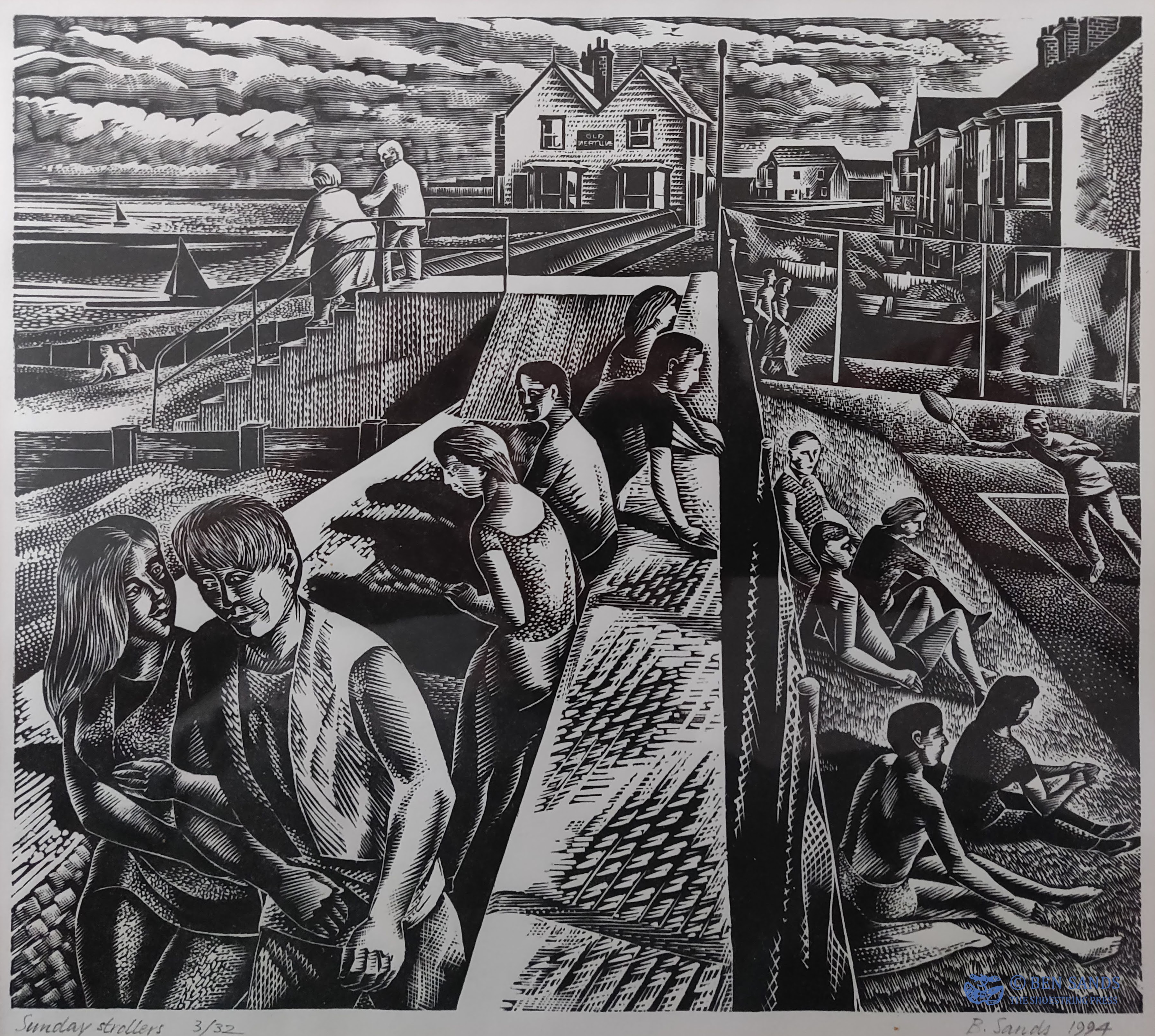 Sunday Strollers
The commute to London was, as today, a slow torture that he endured, for the sake of the family, for the next couple of decades.
Later I would dabble in typesetting a little myself but would not become as swift at 'justifying' (the art of adjusting the size of spaces between the words so that, with each line, the type comfortably fits the measured line width). Once, after I took most of a day to set up a lyric to print as a Valentine card, he counted the letters and spaces and reported "you know, in the old days that would have been just 20 minutes work for a compositor!" ~ referring to the receding past, when the text for all printing would first be set up in moveable type.
Retirement was a prolific art renaissance for Ben, who got back into his printmaking. After taking sketches of Whitstable views he would produce linocuts of them; aspects of the town and people in it. And it took barely a decade before he was no longer complaining about the bosses and the frustrations of his working life!
He contributed pictures to the national Society of Wood Engravers exhibitions, before having exhibitions of his own work in the Whitstable Museum and at the Canterbury Beaney gallery.
The largest was Letting in the Light: Ben Sands, a retrospective held at the Beaney in April and May 2015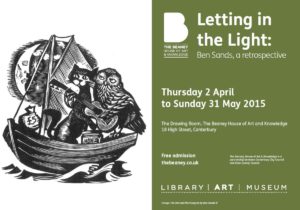 Ben's Largest Exhibition
The exhibition's title came from a phrase coined by Ben himself in an interview in 2003 describing the act of cutting into a block of wood:

"AUTOMATICALLY, WITH PRACTICE, YOUR MIND SEES THAT BLOCK AS A FIELD OF SOLID BLACK…. WHEN YOU START CUTTING YOU START LETTING THE LIGHT INTO THE BLOCK AND REVEALING THE WORLD WHICH ULTIMATELY YOU ARE GOING TO PRESENT TO THE PUBLIC. BECAUSE YOU ARE LETTING LIGHT IN ALL THE TIME, EVERY CUT YOU MAKE LETS ANOTHER STREAK OF LIGHT IN…"
– BEN SANDS (2003)
Printmaker Peter Firmin (co-creator of Bagpuss and Clangers) visited the exhibition and commented that: ~ Imagination, patience and hard work = genius. Ben Sands is one of the best.
By the time of the Retrospective exhibition Ben and Bonna had moved into a residential home near Canterbury. Ben died on 9th January 2016, 15 months after his wife.
In the face of the pandemic crisis, an exhibition to mark his centenary this July 2020, due to be held at the Horsebridge Centre, had to be postponed. We look forward to holding it in 2021.
We hope that you can all raise a glass to Ben Sands. One of Whitstable's premier artists.
BY MATT SANDS, JUNE 28TH 2020
Ben Sands, his unique talent and lino prints are acknowledged in several published articles and books including:
The Shoestring Press of Ben Sands, by Richard Brown
"…work that surely ranks with the best using this medium of expression." (p.170)
Goodacre, C. (1979). 
The Penrose Annual 1980.The International Review of the Graphic Arts. 
Northwood Publication
The Shoestring Press, chapter 7
"…few are able to match the quality of books that have come from the Shoestring Press, Whitstable, since 1952." (p. 100)
Bellamy, B. E. (1980). Private Presses & Publishing in England Since 1945. Clive Bingley Ltd.
"Increasing interest in typography led him to establish the Shoestring Press as an additional after-hours obsession, which led to employment in typographic design." (p. 355)
Brett, S. (2002). An Engraver's Globe: Wood Engraving World-wide in the Twenty-first Century. Primrose Hill Press.