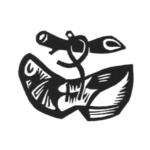 Linocuts from the Shoestring Press

"AUTOMATICALLY, WITH PRACTICE, YOUR MIND SEES THAT BLOCK AS A FIELD OF SOLID BLACK…. WHEN YOU START CUTTING YOU START LETTING THE LIGHT INTO THE BLOCK AND REVEALING THE WORLD WHICH ULTIMATELY YOU ARE GOING TO PRESENT TO THE PUBLIC. BECAUSE YOU ARE LETTING LIGHT IN ALL THE TIME, EVERY CUT YOU MAKE LETS ANOTHER STREAK OF LIGHT IN…"
– BEN SANDS (2003)
Linocut is a variant of woodcut using linoleum and knives
All prints are limited editions with numbered copies
1920-2016
Ben was born in 1920 in Westcliff-on-Sea, and in school he was forced to use his right hand for everything but his art. However, Ben's art won him a scholarship to The Willesden College of Art in 1934. After National Service he enrolled at the Central School of Art, and then worked as a commercial artist in various studios, practicing skills in typography and illustration.
After his paid work as a typographic designer, his skills and creativity as a printmaker flowed through his free time, with broadsheets and hand-printed books produced by The Shoestring Press of Ben Sands. Retirement was a prolific art renaissance for Ben, who really got into his printmaking. Often taking sketches of Whitstable views and producing linocuts of them.
CENTENARY Exhibition at the Horsebridge Centre postponed to 2021
Ben has contributed pictures to exhibitions for the National Society of Wood Engravers as well as the East Kent Printmakers and has had exhibitions of his own work in the Whitstable Museum and the Canterbury Beaney gallery.